The lineup for the FIBA Europe Cup 2022-23 Regular Season has been confirmed following the conclusion of the Qualifiers on Friday.
BC Kalev/Cramo (EST), Cholet Basket (FRA), Hapoel Haifa (ISR) and Sporting CP (POR) were the winners of the four Qualifying Tournaments with Rilski Sportist (BUL), SCMU Craiova (ROU) and Telenet Giants Antwerp (BEL) also advancing as lucky losers to complete the 32-team field.
ZZ Leiden missed out on the Regular Season as the four runners-up were ranked according to the criteria in Section D of the Official Basketball Rules¬; taking into consideration the Semi-Finals and Finals of the respective tournaments.
The seven qualifiers have been allocated to their groups in the pre-determined draw as they join the 10 clubs that gained direct entry alongside 15 teams that opted in from the Basketball Champions League Qualifiers.
The Regular Season groups are as follows: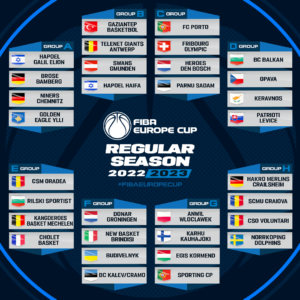 The participating teams have been split into eight groups of four with the top two teams in each group advancing to the Second Round. The Regular Season is set to commence on October 12, 2022.